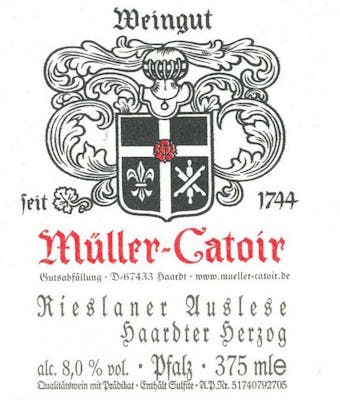 SKU: 15596
Müller-Catoir Haardter Herzog Rieslaner Auslese 2007
---
---
Surprisingly flavoursome; full-bodied and very racy, rich in extract and with a fruity acidity structure. All wines are made from grapes from the winery's own vineyards. The harvest is limited through restrictive vine pruning in the winter, supplemented by partial removal of grapes in the summer. Soil is given meticulous care (mostly permanent green cover) and there is selective hand-picking of very small grape quantities without use of a combine-harvester. The result of these methods are high extract figures, ripe acidity and a definitive character for each variety, making even small vintages full-bodied and top-class. Since grapes are always harvested extremely late on this estate, the musts are cold when they arrive in the cellar and so ferment slowly without any interference. After racking to remove yeast, wines are not touched again until they are filled into bottles. During bottled storage, these non-moved wines usually precipitate tartrate crystals and may sparkle slightly. So it is advisable to keep them at a temperature of 10-12° C for at least two hours before opening, to pull corks carefully and then leave the bottles open for a while so that their full bouquet can develop.
Rieslaner is an "interesting" variety, with aromas and flavors that take some getting used to. In this case, there are hints of brown sugar, lime and dried mushrooms. There are also some sweet, smoky notes that bring certain rock concerts to mind. It's a strange grape, but this is a very good example.

Are you 21 years old, or older?
-->