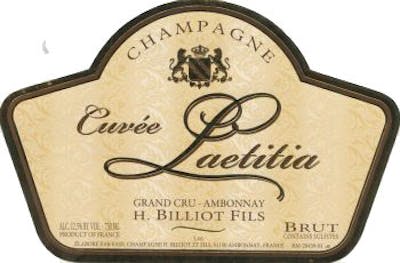 SKU: 15274
H. Billiot Fils Cuvée Laetitia
---
---
The back-story: This was always a profound, sometimes inscrutable but reliably significant Champagne, a tête-de-cuvée consisting of the best lots from every vintage. There were two of these "soleras," the first one started in 1967, and when that one was gone, another one that began in 1983. It was a leviathan of Champagne when it was on form, as it was for many years. Then about 3-4 years ago it started to show a weird cidery or pear-drop flavor that annoyed me, yet wasn't annoying (or perhaps even discernible) to other tasters. Still, I fussed at Laetitia, and learned that the cuvée had historically been aged in many small tanks, but for some reason her father-on the eve of his retiring-decided to blend them into two large tanks. Alas, one of the component tanks was the source of the flaw, and now it was there to stay. Laetitia set about to be rid of this wine, and to create a renewed and "fresher" version of her namesake wine, "without this apple taste." The youngest vintage (30%) is still 2013, newly disg 10.2016, and still majority CH; the wine's more open and accessible than last year, showing wet straw and tropical fruit and doughy Chardonnay richness; a nice thread of chalk runs through it. The "apple" thing (more like pear-drop) is fading fast but not entirely erased.
Rich and mouthwatering, with a fine, silky mousse and well-spiced flavors of baked quince, candied mandarin orange peel and brioche. Finely knit, lingering on the finish. Disgorged April 2016. Drink now through 2022.
International Wine Cellar
Complex, minerally aromas of lemon, lime, spiced apple, violet and caraway seed. Dense, tactile and incisive, with urgent lemon, floral and spice flavors sharply defined by bracing acids. Wonderfully elegant, concentrated Champagne, at once brisk and round. Bracing finishing flavors of lemon and pink grapefruit.
With a strong, mousse-like feel in the mouth, this is a lively offering. It's yellow fruit is layered with toastiness. It has a rich feel, very much in the Billiot style, and a complex, compact character. It is ready to drink. Disgorged October 2011.

Are you 21 years old, or older?
-->